Call for Papers
Mutating Ecologies In Contemporary Art III: Posthuman Becomings
3rd International Symposium
January 30, 2019, Barcelona, Catalonia
Organizing Team
Production and organization: AGI | Art Globalization Interculturality, Universitat de Barcelona
Coordinator / Moderator: Christian Alonso, Universitat de Barcelona
In partnership with: MACBA | Museu d'Art Contemporani de Barcelona
Special Guest Speaker:
Rick Dolphijn, PhD., Utrecht University
Image credit:
"Fruit Belt" (detail), Martin Llavaneras, 2017. Courtesy of the artist.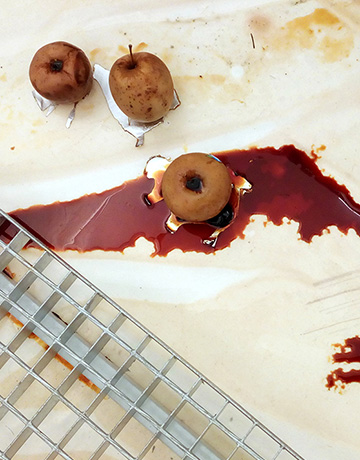 How can we grasp the systemic crises shacking our present from the point of view of a general crises of subjectivity, as the side effect of a reductionist conception of being and a totalitarian dominance of language and the signifier? What tools the philosophy of immanence are putting forth to think a semiotic and ontological pluralism engendered by social, analytical and aesthetic practices? How might a new sense of finitude, accountability and acceleration in our technologically mediated societies effectively evict the eternal and universal consistency of the self, of social relations and value systems? How can this fuel a procedural elaboration in relation to alterity and difference, in an elemental shift from individuality to transversality, into the production of more-than human assemblages? In what way artistic, pedagogical, urban, and activist practices may be contributing to a revolutionary reconstruction of sensibility that would enable the transformation of the state of things?
Traversing the philosophy of creation of Félix Guattari singly and together with Gilles Deleuze, these questions will be the point of departure of the III Symposium Mutating ecologies in contemporary art. MECA III seeks to deepen on the value and the effectiveness of the philosophy of immanence as a non-dualist model of political ecology that enables ways to imagine alternative forms of relation and political action. This model of thought nourish artistic imagination, modulating compounds made of forces and materials imbuing proposals that provide new ways of understanding, interrogating and transforming our relation with the planet and all living entities. They do so by visual, discursive and sensual strategies, experimenting with disciplinary confinements and generating posthuman ethics, politics, and becomings.
Followed by selected communications, the Symposium will be articulated around the opening talk of Dr. Rick Dolphijn, Utrecht University. "The earth needs the necropolitics of art" will focus on the question "what, of art, belongs to the present?" This question arises from the fact that art has no present since, on the one hand, it does not fit into the economic, social and political realities of the day. Yet, on the other hand, it always already challenges the present, offers it another history and another future. Following Deleuze and Guattari's motto "The present… is what we are, and thereby, what already we are ceasing to be", we could say that art is never present, but rather belongs to what we are ceasing to be. Art is necessarily a necropolitics at work within the margins of life, luring us into many ways of dying. An affirmative reading help us understanding how all of these little ways of dying are proposing us a way out of the present, enabling thusly an exploration of another world and another human being. The times of crisis in which we live, the necessity of this necropolitics is more urgent than ever. Only art, and art of the highest kind, has the power to explore the margins of the present, to question the dualisms that organize it and the blindness that determines it. Between the Fourth Industrial Revolution and the Sixth Extinction, it is through art that we need to search for different techniques and different strategies, that we can ask ourselves what life is, what death, pain and madness do to it, and how another life is possible. We will explore in what way the subjects and the objects of the present need to die from art. The Age of the Anthropocene has to reveal itself as the Age of Art. It's our only aim at survival.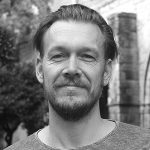 Keynote Talk:
Rick Dolphijn
Rick Dolphijn, PhD., is Professor at the Faculty of Humanities, Utrecht University. He published widely on continental philosophy and the contemporary arts. His books are Foodscapes (2004); New Materialism (2012 with Iris van der Tuin); This Deleuzian Century (2014 ed. with Rosi Braidotti); Philosophy After Nature (2017 ed. with Rosi Braidotti); Michel Serres and the Crises of the Contemporary (2018). He holds an Honorary Professorhip at Hong Kong University (2017-2020).
PROGRAM
8:30-9:00 Registration
9:00-9:10 Welcome
Anna Maria Guasch
9:10-9:30 Presentation & introduction
Christian Alonso
9:30-10:30 Keynote talk
The earth needs the necropolitics of art
Rick Dolphijn
10:30-11:00 Discussion
11-11:30 Break
11:30-13:00 Presentations
Our Bodies Have Turned to Gold
Kristiina Koskentola
Medicane
Martin Llavaneras
Unfamiliarizing artistic refrains
Christian Alonso
13-13:30 Discussion
13:30-15:00 Lunch Break
15-16:30 Presentations
The "Camanchaca" Fog and the "Catancura" Stone: Dialogues between prophetic materialities, folded temporalities, ontological tensions and political potentialities of the surfaces
Francisco Navarrete Sitja
Social Ecologies of Speculation
Theo Reeves-Evison
The Plantocene, a story about the Anthropocene from a para-human point of view
Paula Bruna
16:30-17:00 Discussion
17-17:15 Break
17:15 -18:45 Presentations
A River with Standing: Indigenous Rights and Artistic Interventions as the Last Line of Defence Against Ecological Crisis
Mercedes Vicente
Time Is Running In
Raffael Lomas
The SeaChange Voyage
Kevin Buckland & Amaranta Herrero
18:45-19:15 Final Discussion
Call for Papers
We invite artists, curators, researchers, art historians, activists and other cultural producers working with environmental sustainability as a methodology, both as instituting practice and as a critique of institutional behaviours. We look for projects that go beyond blind spots of liberal individualism and deep ecology in the affirmation of the rhizomatic, embodied and embedded nature of subjectivity, which is inherently ethical. Just as we need a philosophy after it becomes imperative engaging in imagining an art after nature understood as a the practice of composing a common world that both expresses and conquers the immanence as the plane upon which nomadic subjects build alternative ethical relations.
Deadline for sending proposals: December 21, 2018
Proposals should be sent to: mutatingecologies@gmail.com
Include abstract max. 500 words and short CV
Venue
MACBA, Museu d'Art Contemporani de Barcelona, Meier Auditorium
Plaça Joan Coromines, 08001 Barcelona
www.macba.cat
Image credit:
"Fruit Belt" (detail), Martin Llavaneras, 2017
Registration is required, limited capacity