Journal of Global Studies & Contemporary Art
Revista de Estudios Globales y Arte Contemporáneo
The Journal of Global Studies & Contemporary Art is a web-based, peer-reviewed publication associated to the Art,Globalization,Interculturality research group at the Department of Art History, Faculty of History and Geography, University of Barcelona.
Its main research objective is to analyze visuality, contemporary artistic practice and intercultural conflict through a global perspective, in the context of the cultural impact of globalization in the so-called late modern period. This approach implies an academic reformulation of critical frameworks and current methodologies in order to foster greater interdisciplinary exchange. The unit's specific research objectives are: to establish a systematic study of the phenomena of conflict within visual cultures in the global era; and to analyze the contradictions inherent to globalizing processes of culture in the area of artistic practice. Specifically, the group aims to create a space to foster dialogue between the concepts of "visual studies" and "interculturality", as well as the fields of art history and cultural studies.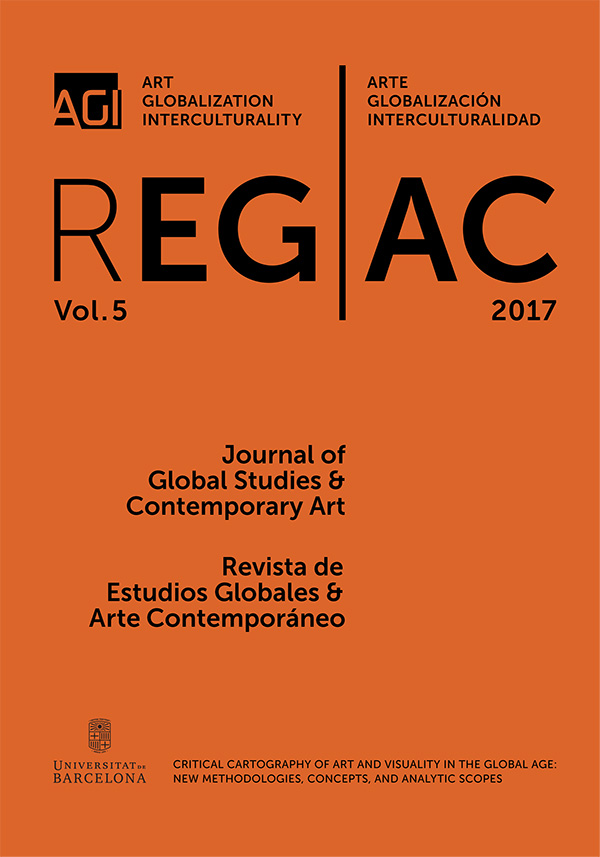 Vol. 5 (2017)
Cold War networks and circulations: Cross-cultural Dialogues and Practices throughout the Global South (1957-1991)
Invited Editors: Paula Barreiro López, Juliane Debeusscher
Upcoming Journal
In the heat of the Cold War, social development(s) as well as material innovations – involving, amongst others, radical advancements in the fields of information, communication, aerodynamics and cybernetic technologies (for both, military and civil purposes) – favoured the creation of transnational networks that put the visual arts, literature, architecture, art criticism and theory into a proficient dialogue. Expressions of solidarity, expressed through states' cultural policies or individual or collective initiatives on the margins of the system(s) became recurrent issues. From the end of the 1950s onwards, in the wake of the increasing anti-imperial struggles and processes of decolonization, constructive interactions within those networks led to a utopian and socialist turn that would eventually have a considerable impact in what started to be designated as the global south.
This issue of REG|AC aims to map Cold War cultural networks developed throughout or in contact with the transatlantic/pacific south (between 1957-1991), taking in account social as well as political relations, institutional agendas and the sphere of civic participation. We understand "transatlantic/pacific south" as a complex spatial and geopolitical configuration, comprehending on the one hand the Atlantic and the Pacific as dorsal spines around which different political, economic, military and cultural interests were grouping and interacted with one another; on the other hand, "south" refers in our understanding to an entity "invented in the struggle and conflicts between imperial global domination and emancipatory and decolonial forces that do not acquiesce with global designs.[1] "
It seeks to contemplate the complex dynamics through which cultural agents engaged with the social, economic, and geographical dissonances implied in these transfers, whilst claiming cultural accord on the basis of language, ideology, religion, and history. It also investigates in how far these interchanges participated in and/or disrupted the Cold War politics and it furthermore intends to critically discuss whether they participated in the construction of transnational movements, which anticipated and fuelled post-1989 narratives and structures of a postmodern and multicultural society.
---
[1]
See "Introduction", in Caroline Levander and Walter Mignolo (eds.),
The Global South
(5:1 March 2011), 3.
REG|AC. Journal of Global Studies and Contemporary Art. RCUB Revistes Científiques de la Universitat de Barcelona
Art Globalization Interculturality (AGI/ART: 2014SGR 1050)
Critical Cartography of Art and Visuality in the Global Era Part III (MINCINN: HAR 2016-75100-P)
Universitat de Barcelona | Ministerio de Economía y Competitividad | Generalitat de Catalunya