Visuality and Counterhistory
Workshop
November 26, 2012, Barcelona, Spain
Organizing Team
Organized by: AGI | Art, Globalization, Interculturality, Departament d´Història de l'Art, Facultat de Geografia i Història, Universitat de Barcelona.
Direction: Anna María Guasch
Coordination: Nasheli Jiménez del Val
Presented and moderated by: Nasheli Jiménez del Val and Julia Ramírez Blanco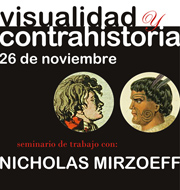 One of the most important aspects that Nicholas Mirzoeff has been working in recent years is a decolonial genealogy of visuality, considering it as the core concept for visual studies
From his monograph The Right to Look: A Counterhistory of Visuality (2010), Mirzoeff argues that, beyond being a term emerged from postmodern theory, visuality refers to ways of seeing back in the Napoleonic era that subsequently were theorized as a conservative strategy towards emancipation and liberations that arose at that time. In this seminar, Mirzoeff will talk about this subject, as well as the possibility of theorizing a visuality of counterhistory.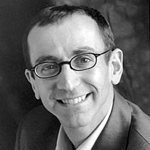 Opening Speech: Nicholas Mirzoeff
Nicholas Mirzoeff is Professor of Media, Culture and Communication at NYU. It has a very distinguished career in the area of visual culture, one of the figures who has focused his extensive body of research in the development of visual culture as a field of study and methodology. His books The Visual Culture Reader (1998) and An Introduction to Visual Culture (1999) are key resources to any first approach to visual studies. He has also produced several monographs on a variety of topics such as: global visual culture and the Iraq war; art, modernity and the body; and the representations of African and Jewish diasporas.
Venue
UB, Universitat de Barcelona, Aula Magna
Montalegre 6, 4th Floor, 08001 Barcelona
www.ub.edu