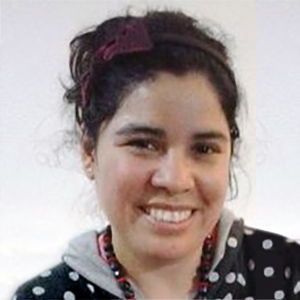 Lynda Avendaño Santana
Ph.D. Associate Researcher
Lynda Avendaño (Santiago de Chile) is currently enrolled in the History of Art Doctoral Program at the University Autónoma of Madrid and University of Barcelona. To pursue her doctoral degree, she has awarded a CONICYT grant (Scientific and Technological Research National Commission) from the Chilean Government within the Advanced Human Capital Program. She has a bachelor degree in Theory and History of Art from the Faculty of Arts at the University of Chile. She was enrolled in the History of Art Graduated program at the University Politécnica of Valencia, University Autónoma of Madrid. And she was studied in the School Communication, Department of Performance Studies the Northwestern University (USA). Among the many invitations she has gotten, one of the most important was given by the Recherche Scientifique National Center of France to visit the Conservation and Restoration Laboratory at this center (2002-2003).
Since 1991, her work experience has been related to university teaching, mainly in the Faculty of Arts at the University of Chile. She has also worked at various museums like the Bellas Artes National Museum of Chile (MNBA).
As a college professor, she has lectured in undergraduate and postgraduate programs in the field of history of art and museum collections and documentation. Furthermore, she has performed administrative tasks in the Faculty of Arts at the University of Chile, where she has worked on some projects such as: the Undergraduate Reformulation Program that was carried out by the Vice-president Academic Affairs office and project MECESUP ( Improving the Quality and Equity in Higher Education ), and promoted by the Ministry of Culture of Chile and the World Bank; and the project related to changes in the curricula of undergraduate careers of Associate of Art degrees such as Visual Arts, Theory and History of Art, Dance, Theater Interpretation, Music, Musical Interpretation, etc. She had been a member of the coordinator team for the project of Consolidation and Development of the Philosophy PhD program at the University of Chile.
Throughout her work experience, she has had the privilege of working with several people who had been awarded with the national award for the Arts of Chile, such as Cirilo Vila (composer) and Fernando Gonzalez (actor), and various artistic personalities like Francisco Brugnoli, visual artist and an academic, director of the Museum of Contemporary Art (MAC) and Vice-president of one of the branches of the University of Chile, who also was her reader for her Bachelors Thesis, Luis Merino, musicologist, awarded with the Bicentennial Award for his contribution to the Chilean music, and currently the Vice-president of University of Chile.
She was a member of the Coordination team of the First Biennial of Performance DEFORMITIES conducted in Chile in 2006 which was directed by the artist Gonzalo Rabanal. And recently she has been commissioned to write about what the Biennial Performances has been in the artistic field, and its importance and projection for the coming years.