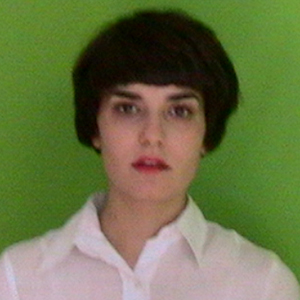 Federica Matelli
Ph.D. Associate Researcher
Federica Matelli (Pietrasanta, Italy, 1977), Founder/Curator of LiminalB | Matelli graduated in Aesthetic Philosophy and Contemporary Art Theory, from Pisa University (Italy) with a thesis on Jean Luc Nancy, Body Philosophy and its Relations with Body Art, Performance and Technological Aesthetics . She is currently in the PhD program in History of Art at UB University, and previously completed her Masters in Curatorial and Cultural Practices in Art and New Media at ESDI and Ramón Llull University organized by MECAD, Media Centre of Art and Design (Barcelona).
Since 2006 she has worked as an independent curator and researcher. She has given conferences in the Philosophy and Art History Departments of Pisa University and MECAD. She has also collaborated with Renato Minucciani (Florence) and from 2004 to 2007 with Alter Ego Gallery, Barcelona. From January 2005, she started collaborating with GEIFC, Contemporary Phenomenon Study Group (Barcelona), for whom she wrote several articles. She worked on the 15th and 16th editions of Invideo, Internacional Exposition of Video and Cinema Beyond (Milan).
Matelli worked at ZKM | Centre for art and Media Technology (Karlsruhe, Germany), where she contributed to the exhibition titled "Deformed Space" , organized by the ZKM | Museum in the context of the Art and Science Festival (Rome). Recently she realized a video interview with Jean Luc Nancy about his philosophy, interactive art, and contemporary society. Along with seven other artists from around the world, she created the winning selection of the Disonancia06 international competition. Matelli has curated various video selections and exhibitions internationally including: DIVA08. Video and Digital Art Fair (Paris, France), Videoakt. Glogauair. Visula art center (Berlin, Germany), Electrofringe. Experimental Electronic Arts and Culture (NewCastle, Australia), Loop07. Video Fair and Festival (Barcelona, Spain), Loop08. Video Fair and Festival (Barcelona, Spain), 10 años de Mecad. ESTRUCH (Sabadell, Spain), among others. She founded and directs LiminalB | Interdisciplinary Art and International Internship since 2006.