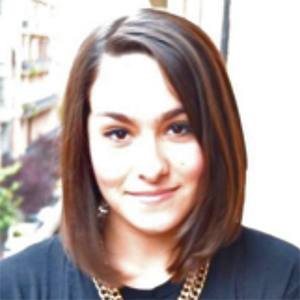 Antonella Medici
Ph.D. Associate Researcher
Antonella Medici (Montevideo, 1989) es licenciada en Historia del Arte por la Universitat de Barcelona (2011). En 2011-2013 realiza un Máster en Estudios Latinoamericanos en la Universitat de Barcelona, la Universitat Autònoma de Barcelona y la Universitat Pompeu i Fabra, que culmina con un trabajo de investigación centrado en el arte de la resistencia en el Uruguay post-dictatorial. A raíz de esta investigación desarrolla el Primer catálogo de obras escultóricas de Horacio Napoleón Faedo Salle, tomo 1, material que se encuentra actualmente registrado en la Biblioteca Nacional del Uruguay, en Montevideo.
Actualmente desarrolla su tesis doctoral en Historia del Arte por la Universitat de Barcelona con un proyecto de investigación entorno a la relación entre post-dictadura, memoria y producción artística en la República Oriental del Uruguay, bajo la dirección de la Dra. Anna María Guasch y el Dr. Joaquín Barriendos (Columbia University).
Recientemente ha publicado algunos artículos en revistas científicas como Kamchatka (Universitat de València) o REG-AC (Universitat de Barcelona) y desde 2014 co-coordina la plataforma on-line de investigación Global Visual Cultures. Ha asistido a diversos seminarios y congresos como LOOP STUDIES 2014; ON MEDIATION: Teoría y Prácticas Curatoriales en el Arte Global, organizado por AGI en colaboración con la Fundació Tàpies, IDENSITAT, ACVIC i Sant Lluc (Noviembre 2013 – Mayo 2014); IX Simposio Crítica de Arte en el mundo global. La enciclopedia Global. Nuevas grografías y Bienales, 2014 (ACCA, Associació Catalana de Cítics d'Art); congreso internacional Critical Cartography of art and visuality in the global age, 2013 (Universitat de Barcelona – MACBA); Construcción de Paz, Derechos Humanos e Interculturalidad en Colombia, 2012 (Universitat de Barcelona – Fundació Solidaritat UB).
En el terreno curatorial ha desarrollado recientemente algunos proyectos con el colectivo curatorial del que forma parte "Principio Activo Colectivo", radicado en Barcelona, con el cual recibió el premio Grundig 2014 otorgado por el Loop Festival por la co-curadoría de la exposición Video(Art) prosumers.
Desde 2014 colabora con el grupo de investigación Arte, Globalización e Interculturalidad (AGI) y el proyecto Cartografía Crítica del Arte y la Visualidad en la Era Global: Nuevas metodologías, conceptos y enfoques analíticos (Proyecto I+D MICINN: HAR2010-17403), dirigidos por Anna María Guasch en la Univesitat de Barcelona.