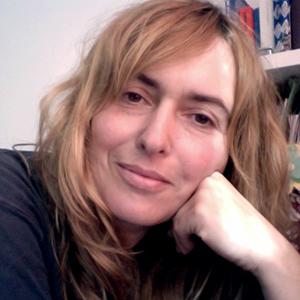 Angela Dimitrakaki
Researcher
Research Project:
Gender, Art, and Capital. Feminism Theories in the Age of Multitudes
Key Concepts:
Third Way, Multiculturalism, Globality, Contact Zones, Visuality
Angela Dimitrakaki (Mytilene, 1968) is a writer and Senior Lecturer in Contemporary Art History and Theory at the University of Edinburgh where she leads the MSc in Modern and Contemporary Art. Her research focuses on feminist and Marxist methodologies in art history; art as labour (especially in relation to gender); the visual culture of crisis; post-documentary aesthetics and the emergence of biopolitical paradigms; the economic subject in post-1989 art; curatorial history and theory. Angela curated with Kirsten Lloyd the project ECONOMY, in Glasgow and Edinburgh from January to April 2013 (www.economyexhibition.net).
Angela has recently published "Gendering the Multitude: Feminist Politics, Globalisation and Art History" in Marsha Meskimmon and Dorothy Rowe, eds, Eccentric Experience: Women, the Arts and Globalization (Manchester University Press 2013); "Feminist Politics and Institutional critiques: Imagining a Curatorial Commons" in Kati Kivimaa, ed, Working with Feminism: Curating and Exhibitions in Eastern Europe (Tallin University Press 2012); "Art, Globalisation and the Exhibition Form", Third Text 26/3 (2012); "Labour, Ethics, Sex and Capital:, On Biopolitical Production in Contemporary Art", n.paradoxa 28 (2011); "The Spectacle and Its Others: Labour, Conflict and Art in the Age of Global Capital" in Jonathan Harris, ed, Globalization and Contemporary Art, Wiley-Blackwell 2011. 

Her forthcoming books include "Gender, ArtWork and the Global Imperative: A Materialist Feminist Critique" (Manchester University Press 2013); Τέχνη και Παγκοσμιοποίηση [Art and Globalisation], (Hestia Publishers Athens 2013), in Greek; "Politics in A Glass Case: Exhibiting Women's and Feminist Art" (co-edited with Lara Perry, Liverpool University Press 2013).